What is your process for placing my order?

We have a couple of different options available for those wanting to purchase custom printed lanyards.
Our most popular means for ordering lanyards is through our You Design…You Order page. Here, we give you the opportunity to personalize your lanyards just the way you want them to look. Such options we give you control over include: lanyard style, lanyard color, font style, font color, size and type of attachments to go on your lanyards. Once you have completed the design process you may submit your billing, shipping and payment information and all of this is available to you at any time of the day. Start now and find out why this has become such a popular option in which to purchase neck lanyards.

Not ready to order your custom lanyards? We invite you to submit your request for a free quote today. We ask that you fill out all appropriate information on this page and hit the 'Submit' or 'Send' button and that will be transmitted directly to our sales team who will then quickly review your quote submission and respond to you quickly with a formal, written quote. Following behind that written quote we will send you a free, full-color digital proof for your approval. In most cases you will receive a written quote AND free artwork on the same day of your request which is very different than how many of our competitors operate where you receive little personal attention and receiving a proof can oftentimes take several days to receive.

I placed my order today, how soon can I expect my lanyards?

Our Guarantees, Terms and Conditions state that you will receive your custom neck lanyards is 14-17 days if not sooner. Need lanyards less than a 1,000pcs? Ask about our FREE rush service where we can get low quantity lanyards to you in as few as 10 days.

What payment methods do you accept?

We accept all major credit cards, ie., Visa, MasterCard, American Express and Discover as well as personal and business checks and money orders. With any check received, our policy states that any order paid for by check must be held from going into production until such checks clears our company's bank. Once a check clears we may then proceed with placing your order immediately into production. If your order exceeds $500.00 you may ship your check overnight on our FedEx account.
With that said, we do offer "due upon receipt" terms to Accredited Schools and Universities, Government Agencies, and on occasion Corporations (on a case by case basis)

Can you explain your 100% Satisfaction Guarantee?

If for any reason you are not completely satisfied with your order, we will seek to provide a reasonable and satisfactory resolution. Your satisfaction is our priority.

Do you offer eco friendly lanyards made of recycled materials?

Yes we do. Currently we are offering lanyards made of bamboo and are in fact bio-degradable. In the coming weeks we will be rolling out more and more eco friendly lanyard choices. In the meantime if you need these type lanyards, please contact us and we will be glad to source those for you at no extra expense to you.

Can you explain your 100% Price Match Guarantee?

We guarantee to match any competitors pricing should it be exactly like the product we are offering and includes all of the incentives that we package with our lanyards. In order for us to offer this we must view on our competitor's website the price they are advertising for the exact same product.

What colors can I use for my lanyards?

You may simply click here to view a wide variety of common and custom colors. Need a custom PMS color? No problem. This is a normal request we receive everyday and are fully capable of utilizing the color(s) of your choosing. Please keep in mind when selecting PMS colors that there is a slight variation between what you see on your computer monitor and the actual color the lanyard will take on after production.

What fonts can I use for my lanyards?

Our graphic designers have at their disposal literally thousands of common and custom fonts that are available to use on your lanyards. You simply let us know the name of the font you would like to use and in nearly 99% of the case we can make it happen.

What method do you use for shipping lanyard orders?

For all custom lanyard orders we ship FedEx Air Priority which is a 2 day delivery service. Free shipping is only available to shipping addresses within the continental United States. Customers who have shipping addresses outside of the US should contact us for a shipping quote.

How do I contact you?

Phone: 800.670.9092
Email: sales at lanyards-4-less.com
Fax: 866.871.1783

Do you offer other promotional products?

Yes we do. We are privileged to have a vast connection of resources across the promotional product industry which positions us to be able to offer over 800,000 products at incredibly, competitive pricing. Here are just some of the products that we'd invite you to consider purchasing from us:
Custom Silicone Wristbands
Custom Embroidered Patches
Custom Vinyl Indoor and Outdoor Magnets
Custom Handfans
Custom Trading Pins
Custom Lapel Pins
Custom Coasters
Do you provide some kind of digital proof for me to review what my lanyards will look like post-production?
Most certainly. Because of the custom nature of promotional products and the personalization that is involved in their creation, we always provide at no charge to the consumer a full-color digital mock-up of whatever product it is that you are looking to purchase. This artwork that we provide is free and will provide a better idea of how the product(s) being purchased will look with the requested artwork upon being produced. All digital proofs that we send to customers are sent as low-resolution JPEG files for quick and easy viewing on your PC or Mac.
How do I calculate how much my order will be?
Your order total is calculated by multiplying the products per piece price by the quantity of the lanyards that will be purchased. For example:
John Smith would like to purchase 100pcs of a 3/4" Imprinted Polyester Lanyard – for Mr. Smith to figure his total delivered price he would multiply 100pcs by $1.52 which would calculate to be a total delivered price of his lanyards to be $152.00. Our pricing page clearly lays out
The great thing about this pricing is that it is ALL-INCLUSIVE. There are absolutely no hidden charges or fees, no small print and no tricks or gimmicks whatsoever. Not only will Mr. Smith receive his order in 14-17 days but during the ordering process he receives full, unfettered access to our team of graphic designers who will assist him in making sure his lanyards are fully personalized to his liking. Along with that our sales team will be readily available to answer any other questions in regards to pricing, production schedule and shipping and delivery information. We work hard along the way to ensure the smoothest and easiest buying experience possible.
What fabric styles do you have to choose from?
Polyester
Tubular
Nylon
Woven
Eco Friendly
What print methods may be used to produce my lanyards?
How may I go about asking for a free quote on some lanyards?
You may
request a free price quote by submitting that through our Free Quote form
which is accessible through most any page on our website or you may receive that information via phone by calling our toll free number – 800-670-9092 or you may request that by sending an email to sales@lanyards-4-less.com.
I do not see the type of attachment(s) that I am looking for – can you help me find what I'm looking for?
The short answer is absolutely. For the sake of keeping things simple
we make available on our website our most popular free and paid for attachments
. This in no way means that we cannot accommodate other requests for attachments. Our manufacturing division produces a wide variety of functional attachments that can meet most any requested need.
Do you really offer FREE attachments with my custom lanyard purchase?
Yes. A FREE safety breakaway is a standard with nearly all lanyards we sell but is not required. Aside from that we offer you a choice of 1 of 5 FREE lanyard attachments.
Please visit the Standard Lanyard Attachments section of this page
to view options available to you.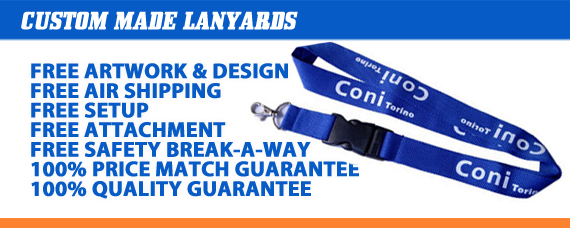 BBB - A+

Main Navigation
Additional Navigation