Lanyards-4-Less Testimonials
Listed below are reviews and testimonials by clients who have bought from Lanyards-4-Less.com. This just adds to the many reasons why we are one of the industry leaders for custom lanyards. Please use the form at the bottom of the page if you have purchased any custom lanyards from us in the past and wish to leave your own review.
I just wanted to drop you a note to let you know that everything you promised came through…and then some! we arrived in chicago and had the box of 1000 lanyards with 'The Bridal Outet' printed on it, waiting at our trade show booth. They are perfect, and even better than i could have anticipated! The quality was above expectation and your rush job was BEYOND appreciated! I would GLADLY recommend your company to anyone and use you again!
Thank you for your professionalism and patience-the end result was perfect and and was loved by all our customers!
I cannot believe my custom lanyards arrived so quickly. We are so happy with the lanyard design, quality, fast shipping, and of course the low price. Thanks again for doing such a fantastic job! My lanyards look great and the design was perfect!
Thanks again for the quick delivery and the great lanyards.
I just wanted to say thank you all so much for your speedy service! I received my custom printed lanyards in PLENTY of time for my event and they look amazing! Exactly what I wanted! I'll be sure to keep Lanyards-4-Less.com in mind for my next event.
Thanks!
WOW! I received my lanyards today and they are perfect. I ordered these as a fundraiser for my neighbor's health bills and I know that they will be extremely helpful and successful. Thank you so much. The quality is great, the price was phenomenal, and the service was "top-notch".
Thanks again for the awesome job on my custom lanyards!
Your company is amazing. The customer service was great and the prices were even better. I own a mid-sized marina and ordered my custom lanyards as part of my new employee uniforms. However, after the multiple responses and the peaked interest I've received from many of my customers – I am going to order more and start selling them. They look great and are great quality. I don't have to worry about losing anymore keys to the bottom of the lake!
All submissions are reviewed before publication. All submissions are subject for grammatical and spelling corrections.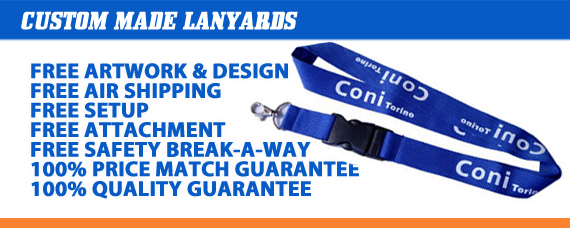 BBB - A+

Main Navigation
Additional Navigation